---
Auto CAD | Solid Works | CATIA | PRO E | Master CAM X7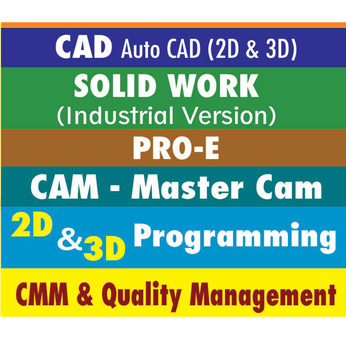 பயிற்சி பெற்ற அணைவருக்கும் நேர்முக தேர்வின் மூலம் 100% மிக சிறந்த கம்பெனிகளில் நிரந்தர பணி பெற்று தருகிறோம்
---
---
Eligiblity
BASIC EDUCATION
ITI
DIPLOMA
BE
Duration of the course
30 DAYS - FULL TIME
45 DAYS - PART TIME
Class Timings
Regular Class Timings : Morning : 10.00 am TO 01.00 pm Afternoon : 02.00 pm TO 04.00 pm Evening : 06.00 pm TO 08.00 pm
Weekend Classes Timing : Morning : 10.00am TO 02.00 pm
DESIGNING
Auto CAD | Solid Works | CATIA | PRO E | Master CAM X7
The key promises of Creo tools include: faster time-to-market, product quality, design efficiency; minimum errors, less scrap and rework.
AUTOCAD-AutoCAD is a software application for Computer Aided Design (CAD) and drafting which helps in the design of 2D and 3D drawings and models, replacing traditional pencil and paper drafting to create blueprints with easily altered electronic files. AutoCAD is developed and marketed by Autodesk Inc. and one of the initial CAD programs that could be executed on personal computers.
CATIA - CATIA is the Dassault Systèmes flagship PLM solution and is the world's leading solution for product design excellence. It addresses all manufacturing organizations, from OEMs through their supply chains to small independent producers. The range of its capabilities allows CATIA to be applied in a wide variety of industries, such as aerospace, automotive, industrial machinery, electrical, electronics, shipbuilding, plant design and consumer goods, including design for diverse products such as jewelry and clothing.
SOLID WORKS -Industrial Version- SolidWorks is a 3D CAD software tool that transports all tasks involved in product development into the visual and electronic 3D world for better collaboration. With its intuitive interface, and a wide range of specialized and compatible products to support all design and engineering functions, SolidWorks promises
PRO E- Creo, from PTC, is a complete suite of concept design, 2D, 3D, simulation & analysis engineering software. What is unique about Creo is that it has taken into account how product design and development is done in modern days, using diverse tools, with the participation of people of a variety of skills, from different geographical locations.
MASTER CAM X7 -X7 CAM is a part of Unigraphics NX, owned by Siemens PLM Software, meant for computer aided manufacturing including numerical control programming and all kinds of subtractive and additive manufacturing. NX CAM is used for doing quality and thorough manufacturing plan- that starts from defining the manufacturing plan to taking it to the shop floor for execution.
---
Our Services
---